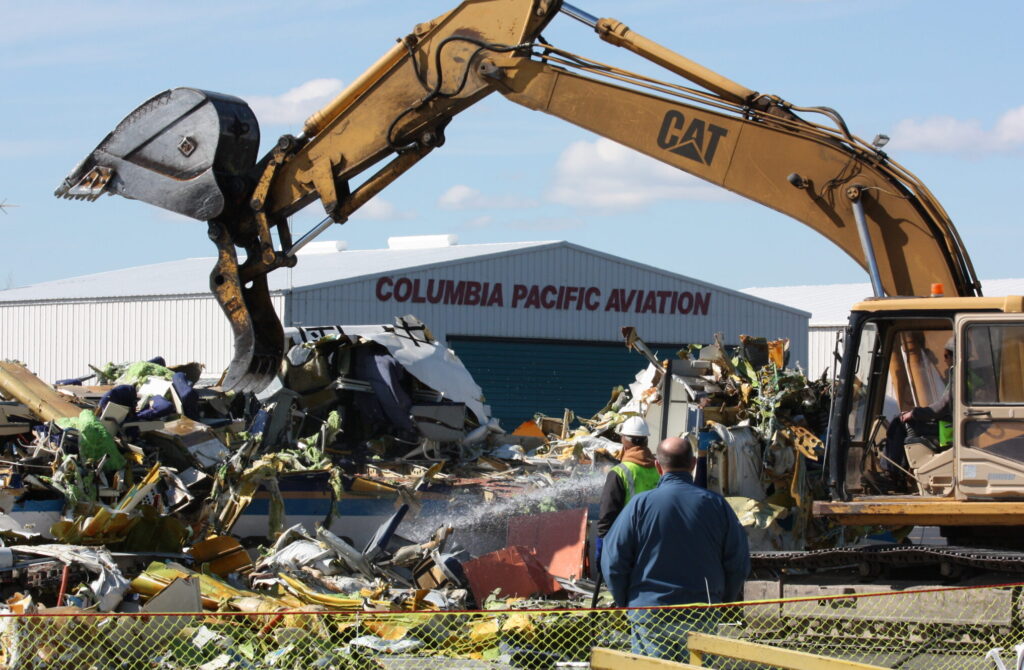 Aircraft Dismantling & Recycling
As an aircraft's useful service life ends for one company, decisions about its future are required. Options include selling the aircraft to another entity to continue flying, donating all or part to aviation schools and/or museums, or parting out and recycling the aircraft.
Every aircraft has a history, and some are well known throughout the nation and the world. Determining an aircraft's final disposition can be an emotional event for the owner – and others familiar with the plane's history.
CPA has undertaken numerous dismantling and recycling projects including Boeing 727s, 747s, Fokker F28s, and more. Regrettably, even historic fire tankers respectfully, were dismantled by CPA. Some of the company's favorite recycling projects were those that repurposed part of the aircraft into custom works of art. Thus, the owner's needs were met, while the aircraft – and its history – remained intact… to a degree.
Custom Art
The Best Western Navigator Inn & Suites in Everett, WA selected Columbia Pacific Aviation, Inc. to provide components for a unique hotel renovation with an aviation theme. CPA dismantled a retired Boeing 727 and a Fokker F28 for the project. CPA also provided engineering, fabrication and modifications; transportation; and the final placement of the components to complete the renovation.
The top cabin section of the F28 was used in lieu of an awning over the hotel's front entrance. The left wing from the Boeing 727 stretched from the entrance into the parking lot, greeting guests and protecting them from the rain.
CPA has repurposed a variety of former aircraft parts including: radial engine connecting rods, wheels, cabin windows, cowlings, wings, and tail sections. For a unique, custom piece, bring your aircraft parts and/or ideas to CPA!